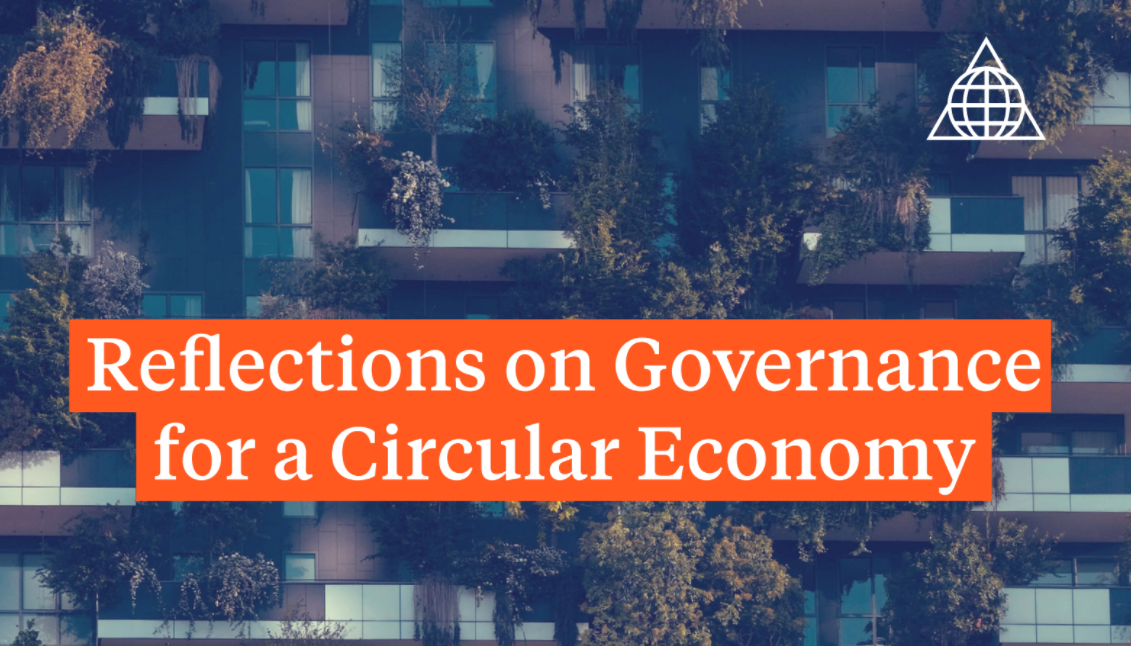 Reflections on Goverance for a Circular Economy
Here is the link to the full report: Reflections on Governance for a Circular Economy
Executive Summary
Welcome to the world of the Circular Economy – an emergent way of looking at the economy. The backdrop is the rapidly increasing throughput of energy and materials, not least the growing use of disposable products, and the threat it constitutes to planet Earth. The International Resource Panel (IRP)1
is estimating that the extraction and processing of materials, fuels and food make up more than
half of global carbon emissions and 90% of the loss of biodiversity. To continue business as usual would endanger planetary life-support systems, whether referring to climate change, ecosystem decline or resource depletion. The circular economy should be everybody´s business. By moving from linear
to circular production models the pressure on natural systems would lessen considerably. Nothing is 100% circular, however. All materials degrade and disperse over time and with use. What's more, collecting end-of-life products and materials and restoring them to a re-usable state itself requires energy inputs and new materials. Obviously, the circular economy is no panacea. Still, a lot of studies confirm that there are huge gains to be made – economically, socially and environmentally – by moving from linear to circular material flows and by keeping products and materials in use as long as possible.
The objective of this paper is first to present the rationale for a circular economy – including a discussion on its limitations – and, second to discuss the barriers to change and how to overcome them through a combination of different governance initiatives.
One particular challenge is that there does not exist a generally agreed upon
definition. To date the circular economy is seen by many as a metaphor for a
variety of measures aiming at enhancing resource efficiency. A commonly used
definition from the Ellen Mac Arthur Foundation goes as follows:
"Looking beyond the current take-make-waste extractive industrial model, a circular economy aims to redefine growth, focusing on positive society-wide benefits. It entails gradually decoupling economic activity from the consumption of finite resources, and designing waste out of the system. Underpinned by a transition to renewable energy sources, the circular model builds economic, natural, and social capital. It is based on three main principles:
i) Design out waste and pollution, ii) Keep products and materials in use, and
iii) Regenerate natural systems."
In order for society to move from a linear to a circular production model there is a strong need for a robust and generally accepted definition. The positive thing is that the International Organization for Standardization (ISO) in 2019 took the initiative, urged by many governments, to work on a definition. A proposal is expected in the spring of 2023.
Decoupling
The concept of decoupling economic activity from resource use – the ability of an economy to grow without corresponding increases in energy and resource use and in environmental pressure – has been a central theme in the sustainability debate for decades. Absolute decoupling occurs when the relevant environmental pressure is stable or decreasing while the economy is growing. Decoupling is relative when the rate of environment degradation is still positive, but less than the growth rate of the economy.
While relative decoupling has been happening – and is happening – the gains made have most often been eaten up by a combination of economic growth and the so-called rebound effect, i. e. that the resources freed up by increased efficiency are used up very soon through increased consumption. Looking at the global economy as a whole, the fact is that material use in recent years increases
faster than the growth of GDP – a consequence primarily of rapid infrastructure development in the emerging economies.
Although progress on decoupling overall has been disappointing, efforts must continue. A combination of technology innovation, policy measures, behavior change and redistribution of wealth – primarily between industrialized countries and low-income countries – stand out as the main vehicles for change. But for that to happen we need policy frameworks that provide the right incentives for a
different kind of economy.
So far most climate change mitigation strategies have been sector-based, with a primary focus on energy use. The general level of material use in society, and the fact that demand for materials has been increasing rapidly, was until recently mostly neglected – in spite of the fact that the climate benefits from using products longer and from enhanced rates of reuse, refurbishment and recycling of materials ought to be obvious. Numerous studies have confirmed that enhanced efficiency in the use of key materials leads to a significant reduction in carbon emissions.
Strong rationale for a circular economy
The rationale for enhancing resource efficiency is compelling. It is multidimensional – encompassing economic, ecological as well as social considerations. However, enhanced resource efficiency alone will not result in a sustainable economy. Energy and material use in the global South will have to grow significantly to make eradication of poverty possible. In industrialized countries, the combination of economic growth and rebound effects are likely to more than balance out the resource savings made over time. Hence, demand for virgin materials is expected to continue to increase globally for several decades.
The question is by how much?
Here is where a move to a circular economy could play a crucial role. Moving away from today´s utterly wasteful production model – from "take-make-dispose" linear production – toward a circular production model, where goods are designed and produced for extended use, reuse, reconditioning and recycling from the outset will no doubt help reduce the pressure on natural systems. It is important to emphasize that a move from a Linear to a Circular Production Model will be enhanced by the mushrooming of digital technologies – such as the Internet of Things (IT), big data, and data analytics. Such technologies are looked upon as "enablers" of a variety of new services that have the potential to radically reduce
material use.
A move from a linear to a circular production model represents an economywide transformation. All major stakeholders have to be committed and engaged – national governments, cities, the business community, researchers as well as consumers. The international dimension is crucial. International and global governance that facilitates the transition to a circular economy is very much needed.
Many Barriers to change
Even if a Circular Economy appears obvious it will not happen by itself. The barriers to change are plentiful. Policy frameworks have to be reconsidered at international, regional, national and city levels. Business models, consumer preferences and lifestyles have to be changed. There are, indeed, a number of
reasons why the" take-make-dispose" model continues to dominate the economy.
The most important ones are:
• During much of history natural resources were perceived as both abundant
and cheap; likewise, the capacity of nature to absorb waste and residues was
perceived as infinitely large.
• Producers have rarely paid the full costs of production; the use of nature has
been more or less free of cost – resulting in a huge market failure.
• Many products include toxic substances and hence are difficult to reuse or
recycle.
• Modern products are composed of a variety of materials, which are both
difficult to decompose and reuse and recycle.
• Supply chains are global in nature which make it difficult to close the loops;
moreover, trade agreements are free from references to circularity.
• Most business models have favored high material throughput and short
product lives.
• Consumer patterns were developed without considering sustainability.
• We measure the wrong things; GDP growth is a useless metrics when it
comes to everything that is connected to qualitative development.
To overcome all these barriers, a number of things have to happen – both in politics, business and with regard to consumer preferences. At the top of the list will be policy initiatives – at global, regional, national and city levels – to correct for market failures and provide the necessary incentives to move the economy in the right direction.
The transition towards a circular economy is taking place in an increasingly globalized economy. The linkages with international trade are crucial. In spite of the importance of trade, existing research is presently limited. Policy action in most countries give priority to achieving circular material flows at the domestic level, yet international trade occurs at various levels along the product value chain. The EU has presently around 80 Free-Trade Agreements (FTAs). While all these agreements include Sustainability Impact Assessments and various environmental safeguards, the circular economy is rarely referred to. Trade in secondary raw materials will be an important part of a transition to a circular economy. Just as natural resources are unequally distributed geographically, the same can be said about secondary raw materials. What is lacking, however, are internationally accepted quality standards for such materials.
Governance
The question of how to overcome the barriers to a circular economy is multifaceted. The role of policy is central on many levels – international, regional, national and city – but other stakeholders play a crucial role as well, the most important being business organizations, science and technology and civil society.
The 2030 Agenda reflects a global consensus that economic, social and environmental aspects of development are interlinked and mutually dependent.
Governments all over the world have agreed to work together to meet the Sustainable Development Goals (SDGs). The circular economy must be discussed and framed within the context of the SDGs and a systemic approach is necessary. The seventeen goals are interconnected and progress towards one target will influence the others.
Adherence to lofty goals is one thing. Meeting the goals in practice is a different matter. Regretfully, there is no governance system at the international level that guarantees that the SDGs in general or the circular economy more specifically are being pursued. The implementation is up to each and every government and varies greatly.
Rethink Economic Policy Frameworks
When examining the hurdles on the road to a circular economy, most are closely related to shortcomings and failures in policy frameworks, not least the flawedincentives structure of the economy. This can only be addressed by policy change.Ideally at the international level. Recent initiatives in the EU demonstrate that European markets are likely to undergo major changes with regard to resource efficiency and circularity in the near future. Policy measures at EU level will then have to be complemented at the level of Member States. Crucially important, as well, will be for the EU and it´s Member-States to prepare for follow-up initiativesat the level of UN, WTO, OECD, G 7 and G 20 to make sure that the transformation
to a CE will be compatible with rules-making at the international level.
• Regarding policy change the most important measures ought to be:
• Initiate a tax shift – lowering taxes on labor and increasing taxes on
resource use.
• Stop subsidizing fossil fuels production and consumption.
• Products should be designed for reuse, refurbishment, remanufacturing
and recycling.
• Remove VAT on all reused materials. This would give a boost to reuse and
recycling.
• Use Public Procurement proactively in the advancement of the circular
economy.
• Make material use a priority in climate mitigation strategies.
• Give cities greater authority in decision-making on circularity.
• Complement today's flow-based metrics, such as GDP, with measures of a
country's stock of assets to account for the restoration and regeneration of
natural capital.
European Green Deal
The European Green Deal was launched in 2019. It is meant to transform the Union into "a modern, resource-efficient and competitive economy, where i) there are no net emissions of GHG emissions by 2050, ii) where economic growth is decoupled from resource use, and iii) no person and no place is left behind." Several of the policy proposals referred to above are likely to be addressed in the
implementation of the Green Deal.
A cross-cutting issue of crucial importance is the Circular Economy Action Plan. It includes a Sustainable Products Initiative and will have particular focus on resource intense sectors such as textiles, vehicles and batteries, construction, electronics, plastics and packaging. Legislative proposals are prepared to support a "Right to Repair" and Mandatory Sustainability Standards for Public Procurement.
Global Action
The European Union makes clear in its Action Plan for the Circular Economy that it cannot deliver the goals of the Green Deal alone. Global cooperation is indispensable and the European Commission "has confirmed that it will lead the way to a circular economy at the global level and use its influence, expertise and financial resources to implement the 2030 Agenda for Sustainable Development
in the EU and beyond."
The actions under consideration are wide-ranging, such as:
• Lead efforts at the international level to reach a global agreement on
plastics.
• Propose a Global Alliance on Circular Economy and Resource Efficiency.
• Initiating discussions on an international agreement on the management of
natural resources.
• Build a stronger partnership with Africa to maximize the benefits of the
green transition and the circular economy.
• Promoting the circular economy in the context of bilateral, regional and
multilateral policy dialogues.
• Ensure that Free Trade Agreements reflect the enhanced objectives of the
circular economy.
In the absence of an international organization that can mobilize the world community to adopt legislation that not only helps meeting the SDGs in general, but – more specifically – promotes and incentivizes a vastly more resource efficient and circular economy, the actions initiated by the European Union are promising.
The role of the Business Community
The European Green Deal will significantly change the business environment. The Circular Economy Action Plan will aim at an economy-wide transition which gets to the heart of industrial production – from design to manufacturing to consumption, repair, reuse, recycling and bringing resources back into the
economy. This is in stark contrast to today´s linear production model. There is only one possible conclusion to be drawn from this: production and business models must change. Disruption is inevitable. Businesses that do not adapt to the principles of circularity will have a difficult future.
Given the urgency with regard to climate change and ecosystem decline, a natural question emerges: Where to start? The answer is quite simple. Any attempt to promote circularity in all its aspects should give priority to areas in the economy where energy and material throughput is particularly large, such as: Energy, Construction and Building, Batteries and Vehicles, Electronics, Textiles, Plastics, Packaging and Food.
The business community is to a large extent dependent on policy-makers to be able to make the necessary shift to a circular economy. The current economic system is geared towards the demand of the linear economy. Circular entrepreneurship is thus at a disadvantage. Another hurdle is the need to
reconsider value chains. Production and consumption often take place in many different countries with inputs from multiple suppliers. In a circular economy, supply chains will have to be reorganized so that information and materials flow in both directions to facilitate reuse, refurbishment and recycling.
One business model that is rapidly gaining ground is Products as a Service (PaaS). Leasing products instead of selling them has benefits both for businesses and consumers. But for that to happen finance models have to change. PaaS means that revenues will be generated over time and not once a product is ready to be brought on the market. Investments will be needed upfront, while returns are uncertain.
In spite of the many uncertainties important segments of the business community have been among the main proponents of leaving behind the linear production model. Corporations like IKEA, H & M, Unilever, Philips, Renault, Tarkett and Solvay have all been in the frontline with regard to the circular transition. Just as important has been a great number of medium-size companies and start-ups. The Finnish Innovation Fund, SITRA – a pioneer when it comes to the circular economy – has compiled a list of altogether 39 circular inspiring solutions from all over the world.
The World Economic Forum (WEF) has taken on a proactive role in the promotion of circularity. WEF´s Circular Economy Initiative brings together private, public, civil society and expert stakeholders to accelerate the circular economy transition by advancing four key pillars or work:
• The Platform for Accelerating the Circular Economy (PACE) was
launched in 2017 as a platform for public and private sector leaders to
take commitments and accelerate collective action towards the Circular
Economy.
• Transforming Material Value Chains. The WEF hosts a series of major value
chain action partnerships that work with partners along global material
value chains to advance circular models – from plastics, electronics,
batteries, cars, to fashion/ textiles.
• Scaling Innovation and the 4IR. Scale360° is an emerging initiative which
aims to mobilize action among innovators, governments, civil society,
and private sector stakeholders to grow the ecosystem for circular 4IR
technology innovation (Fourth Industrial Revolution) — with a focus on
plastics, electronics, food and fashion/textiles.
• The Circular Economy for Net-Zero Industry Transition. This initiative
is designed to raise the decarbonization ambition for harder-to-abate
materials (steel, cement, chemicals, and aluminum) and help those
industries realize a 1.5° pathway by catalyzing scalable circular economy
solutions.
Initiatives like the ones taken by WEF will have great importance to help companies prepare for a transformation to a circular economy. One challenge, though, will be how to involve small- and medium-sized companies (SMEs) in the process. It is one thing for large companies to engage in sustainability related matters but quite another for small and medium-sized companies. Here governments have to help put in place support schemes, preferably in close cooperation with business organizations.
In conclusion 
The move toward a circular economy seems unstoppable. While nothing is fully
circular, the benefits of moving from a Linear to a Circular Production Model are obvious both from purely economic as well as environmental and social points of view. The reductions in terms of carbon emissions, as well as other forms of pollution are striking. It is therefore somewhat of a mystery that societies have done so little until recently to promote resource efficiency in general and circularity more specifically. It is important, though, to remind the reader of the rebound effects. Neither resource efficiency in itself, nor circularity, will be sufficient to bring about "absolute decoupling."
Of crucial importance in the years ahead will be the policies enacted at global, EU, national government and city levels. The linear production model is dominating today because of massive market failures – the negative externalities in relation to both the extraction, production and use of all kinds of natural
resources are not reflected in market prices. Business models are built upon high throughput of energy and materials. There is a strong need for more explicit and focused intergovernmental discussions about governance. Key issues will be how to align global supply chains with the objectives of a circular economy.
What will be needed urgently, as well, is a value shift – replacing, or at least complementing, material consumption as the main objective in life. Quality of Life has many components, such as a purposeful life, health care, healthy ecosystems and a stable climate, personal safety, conditions in the workplace, education, access to and participation in cultural activities and family life. It is abundantly clear from a lot of research that the priority given in contemporary society to material consumption is exaggerated, both from the point of view of nature protection and wellbeing and happiness for the individual.
The information technology revolution, no doubt, offers opportunities for people – not least among the young – to increasingly favour experiences over possessions.
Here is the link to the full report: Reflections on Governance for a Circular Economy
Reflections on Goverance for a Circular Economy