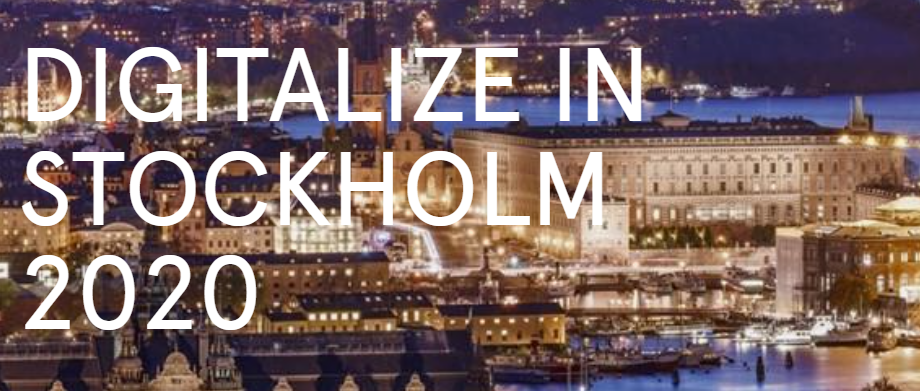 "Exponential technologies – opportunities and risks", 9 nov 2020
Key-note by Anders Wijkman at "Digitalize in Stockholm 2020", November 9, 2020
We are entering a period of rapid technological disruption – with change at a speed and scale far beyond what any civilization before us has experienced. The explosion of connections and creativity made possible by the Internet has brought real value and joy to billions of people. Had Covid-19 struck a decade or two ago, without the scale of the internet businesses we now take for granted, our ability to manage the pandemic would have been very different.
This being said, it is also abundantly clear that the very same tools can be used to promote extremism and misinformation. Under Trump this problem has been exploding.
And there are other threats as well associated with exponential technologies. Robotisation and automation risk to eliminate many more jobs than they create. The development of the surveillance society is frigthening. The same goes for lethal autonomous weapons.
In "Homo Deus" – the international best-seller – by the Israeli historian Yuval Harari, he paints a rather dystopic vision of the future, where humanity is increasingly dominated by non-conscious intelligent machines. He even offers the idea that with the rise of brain-machine interfaces today's elite class of human beings would upgrade themselves to a biologically improved version of humans – superhumans – which the general mass couldn't possibly afford. The result would be a caste system with real biological hierarchies.
Harari asks us to stop and reflect. We are at one of the important forks in the road. According to him the very essence of who we are as humans is at stake. And his suggestion is that most people, including policy makers, are more or less unaware of both the opportunities and the threats of information technology developments. Having spent quite some time in politics I can attest that he is right. This occasion does not permit me to dwell into these issues. But I want to raise them as part of an agenda for the future. If we do not address them we might be sleep-walking into a technolgical nightmare.
Lookig at disruption, it is not necessarily a concept to most people.
Do you want disruption when making love? –
Do you want disruption when having dinner with friends? Surely not.
And I think we all agree that rapid change in the world around us is not something most people appreciate. The appeal of populists – who promise to bring back "the good old times" – is a proof of that.
But there are of course areas where innovation, leading to disruption, is most welcome in order to accelerate the transformation to a low-carbon economy. But innovation, leading to the destruction of old structures, are bound to lead to many jobs disappearing.
Yesterday I picked up in the news that Xiaomi Corporation in China has announced plans to build a next-generation, completely unmanned factory which can make over 10 million smartphones every year. Its CEO hopes to "reduce manufacturing costs to one-tenth of the present level." This is just one of many examples.
So the effect of AI, automation and robotisation on employment is no doubt a major issue – not least in developing countries where the majority of the population are below 20 years of age. The question really is what the future job market will look like?!
Another important dimension is exponential technology in relation to governance and the functioning of the economy in general. The Cambridge Analytica scandal showed us what can be done in terms of data manipulation and misinformation.
Democracy is clearly at risk. The spreading of fake news is increasing fast and the efforts to control it are lagging behind.  Of particular concern is that the power of controling content is primarily vested with the big tech companies.
The tech companies are immensely powerful. They own and manage global technological systems, they produce and regulate  marketplaces and they have great influence on both culture and politics by moderating the flow of information in society. When society turns to private companies to regulate the digital environment, their power is further strengthened.
As elaborated in a recent article by Joanne Gray, Lecturer at Creative Industries Faculty: "When we ask Google or Facebook to stop the spread of harmful content online, we ask these platforms to be gatekeepers of information, to protect us from harm and to be the judges in critical social and cultural disputes.
This is a problem for democratic governance because, in effect, we are creating a situation in which powerful private companies use substantially opaque systems to regulate the digital environment – and they will do it with their own commercial interests in mind."
Talking about the big tech companies, we have to be conscious of a number of challenges in relation to their operations:
Data and power. When you have enough data you can predict what message will engage your audience. You can control both elections, public opinion and the people.
Data, scale and network effects. When you reach above a certain threshold of users in a network, there is little anyone can do to stop your growth. This means there is no easy way to compete with a new platform without forcing portability between networks. China has understood this early and stopped Facebook and Google from entering their market.
Data and privacy – when enough data is available about you the rest can be interpolated.
So the challenges in terms of governance and democracy but as well of competition, jobs and market dominance are huge. To maintain democratic social and political systems we need to confront this concentration of power.
The technology revolution is happening at a time of crisis – or crises. Many experts have warned about the risks of major pandemics since decades. However, pandemics is but one of many serious risks we are facing. In this globalized world we are challenged, as well, by climate change, the rapid decline of many vital ecosystems and the loss of biodiversity. Furthermore, we cannot ignore a financial system with debt levels that are approaching 350% of global GDP.
The ecological crisis is increasingly serious. The impact of our civilization on the Earth's biophysical systems has gone far beyond the limits of what can be supported sustainably.
In a recent report – GRO 2019 – by the International Resource Panel (IRP) information is provided on resource use over the past five decades:
Our global population has doubled,
Gross domestic product has quadrupled.
The extraction of materials has tripled.
The extraction and processing of natural resources has accelerated over the last two decades, and accounts for more than 90 per cent of our biodiversity loss and water stress and approximately half of our climate change impacts.
In another report, IRP estimates that the world will build as much urban infrastructure till 2050 as we have built till today.
If this expansion in terms of material use would take place with today´s materials – primarily steel, cement, aluminum and plastics – and today´s technologies, we can forget about the Paris climate goals. We are toast.
While energy systems are crucially important when it comes to emissions reduction the IRP reports show that material use is equally important.
The Pandemics Report by the IPBES last week shows that the underlying causes of pandemics are the same global environmental changes that drive biodiversity loss and climate change.
One would hope that the pandemic would be the wake-up call – and, indeed, the opportunity – we need to change course?  We cannot endlessly continue to extract resources from Nature and discard our waste.
The big question for this conference is to what extent  exponential technology will help us address the climate and ecological challenges.  While we talk a lot about climate change we still do far too little in terms of mitigation. One example. Climate innovation specifically does only receive 4 % of all the gvt funding for research and innovation globally.
Research and innovation is one thing. What about the tech companies? What about the tech entrepeneurs? Unfortunately, the environment until recently has been low on the priority list and rarely addressed by tech people unless financially profitable. And finance in general is not much better. Short term profit maximisation dominates the thinking of the sector. In an economy where few producers pay the full costs it is bound to lead to disaster. And the green bond market only represents 2 % of the entire bond market in the world.
But times are changing. A recent study – The State of Climate Tech – made by Azeem Azhar, Exponentail View, in cooperation with PWC shows that interest among venture capital is increasing fast. Early stage investment into climate tech is growing fast. Over the past seven years, total funding for climate tech companies, the rate of startup creation, and the average size of funding has continued to rise. For perspective, the study shows that in 2013 the early-stage venture funding for climate tech companies was about $418 million. However, in 2019, total venture funding increased to $16.1b, a more than 3750% increase.
We don´t have much time. GHG emissions must come down quickly and decisively. The destruction of nature must be stopped. The introduction of the concept of the Carbon Law – i e reducing emissions by half every decade until 2050 in order to stay below 2°C degrees of warming – is great help on the way forward. By translating complicated science and IPCC findings into a simple rule of thumb, the researchers behind the concept have given us good direction.
All actors will not be able to cut emissions according the the Carbon Law. On average it would require emissions reductions of 6-7% yearly. This means that those who can must go faster. And here is where IT technology and IT solutions come in.
When we look at exponential technology specifically there are interesting developments. One example is around the Singularity University. I am referring to people like Ray Kurzweil, and Peter Diamandis. They describe a future that is almost impossible to comprehend – at least for laymen. According to them we are heading towards a technological singularity, a point in human history where technological change occurs so fast that we cease to be able to predict what breakthrough will come next.
Another individual with a fascinatingly optimistic message is Tony Siba. In his most recent book – "Rethink Humanity" – Siba outlines a technoloy disruption that seems almost to good to be true. In Siba´s words "a new system of production is emerging with the potential to break through the capability frontier of our current order and solve the root causes of the problems we are experiencing. Numerous technologies are improving at an exponential rate and disrupting every sector of the industrial production system". According to Siba, "an entirely new system of production is emerging that will decrease dramatically our dependency on resources and the environment by an order of magnitude or more.
As a result, climate change, inequality, and many of the other serious problems society faces today can be solved".
Siba continues: " As has always been the case, the catalyst for disruption is the extraordinary improvement in a number of key technologies that each have the potential to impact multiple sectors of the economy. Just as we have seen with the smartphone and the car, investment and improvement in any one sector improve the cost and capabilities of the underlying technologies and help to disrupt other sectors. For example, as batteries improve as demand and investment in electric vehicles rise, they become competitive in the electricity storage market, which boosts the market for solar and wind energy, which increases demand for more grid storage, which catalyzes further improvement in battery technology cost and capabilities, which improves EV competitiveness relative to fossil-fuel powered vehicles. These technologies are converging in different combinations in different sectors to enable extraordinary improvement in the costs and capabilities of new products and services. As disruptions unfold and reinforce one another,their impacts will ripple out across society, profoundly changing our world."
Siba concludes: "Of the five foundational sectors that will trigger this extraordinary transformation, information is the most advanced, just as it was when the Industrial Order emerged."
I am not competent to make a judgment on all the details in Tony Siba´s account. But technology change is incredibly fast and if sufficient incentives are provided an increasing share of that technology development ought to benefit sustainable development. Lab-based protein is happening. Nanotechnology is coming closer to reality in material sciences. Distributed energy systems are developing rapidly. And developments in AI seem extraordinary in nature.
One initiative worthy of bringing to the fore is The Exponential Technology Roadmap – launched in 2018, and updated in 2019. It was initiated by the Potsdam Institute, Stockholm Recilience Center, SITRA, Ericsson, KTH, Stockholm University, WWF and Future Earth. Among the supporting partners are companies like IKEA, Skanska and Scania.  It maps out overall global emissions on key sectors of the economy and shows the efforts and opportunities for each of them (including energy supply, industry, buildings, transports, food consumption and nature-based sources) in their mission to decarbonize.
The Roadmap is summarized into 36 solutions which could save the climate and safeguard the world if leveraged and scaled in time. It also shows how nature-based sinks can be implemented in line with the requirements of the IPCC Special Report on 1,5° C.
Furthermore, it features the decarbonization of the different sectors in a broad societal framework and defines the various levers including e.g. policy frameworks, financing models, business models, exponential technologies and leadership at all levels.
The role of exponentail technologies is crucial. Such technologies offer a critical lever to accelerate the required urgent action – both through their capacity to directly reduce emissions and also in the role of enablers.
According to the Roadmap one third of the halving of emissions to 2030 could happen through existing ICT solutions across sectors like energy, buildings, manufacturing, agriculture, land use, services, transportation and traffic management. With technologies such as 5G, the Internet of Things (IoT) and artificial Intelligence (AI) at our threshold new, additional reduction opportunities are within reach.
The roadmap stresses that the digital industry has an important role to play. Not only is its footprint relatively small – however, it could increase significantly unless demand for unsustainable products and services on digital platforms is being controlled – and it allows for virtualization of many activities and increased efficiency of others. It is a great enabler. It is uniquely positioned to disrupt industries for the better and influence people´s actions around the world though various platforms.
The Roadmap suggests a number of strategies to significantly lower demand for energy and materials:
To electrify energy end-use
To digitalise energy-using products and services to optimise infrastructure and resource use
To converge onto fewer numbers of multi-functional goods to improve service quality and convenience
To shift from ownership of products to services to reduce material throughput
To utilise consumer products, vehicles and infrastructure at higher rates
To tighten efficiency standards continuously
For all such strategies to be implemented information technologies are crucially important. If we look more in detail what is at stake, the following actions stand out as priorities:
Solar, wind, storage and smart grid technology supported by digital solutions, will enable electrification, decentralisation and greening of the energy system.
Energy usage in buildings can be brought down by increased space utilisation through new digitally enabled sharing models.
Mobility as a service, electrification, and autonomous vehicles connected to one another can tap the value of unused vehicles.
Artificial Intelligence can be applied to design products for re-purpose, sharing, re-use and recycling as the new default.
Deforestation can now be predicted and detected through digital solutions which helps take proactive action, and to monitor and improve agriculture, reforestation and peatland restoration.
Through the use of Internet of Things, AI, 5G and digital-twin technology, the need for more roads and physical infrastructure can be dramatically reduced through optimising existing infrastructure.
The Exponential Roadmap is being developed continuously. The most recent initiatives include The 1,5°C Buiness Playbook and the SME Climate Hub. The initial partners are joined by corporations, NGO:s and scientific institutions in different parts of the world.
The disruptions envisaged by Kurzweil, Diamandis and Siba on the one hand and in the Exponential Technology Roadmap on the other will not happen by itself. There are barriers to change and there are still many uncertainties around technology.  As a society we have to start the necessary transformation by primarily changing the incentives structure of the economy:
Support for innovation and technology development must be strengthened. We have to move from a focus on vertical interventions and single-point solutions to a more systemic approach. Climate-KIC, that I am chairing, is doing exactly that. Look at our website and you will get an understanding what systmes innovation is all about.
We have to halt fossil fuel expansion and fossil fuel subsidies.
We have to triple investments in solar and wind technology.
Of particular importance is to ramp up renewable technology investments in low-income countries
We have to address the fact that it is too cheap to use natural resources. Producers must pay the full cost of production. As part of that we need a carbon tax.
We have to ensure greater material efficiency. Design is a key issue. Products put on the market should be designed for reuse and recycling.
We have to replace GDP as the main indicator of societal progress. Instead we need indicators for welfare and wellbeing.
We have to address the tension between the short term and the long term.
The financial sector must be reined in. Shareholder value alone can no longer be the guiding principle. The engagement in fossilbased activities must come to a halt, because of two reasons. One, because to continue supporting fossil fuel companies with credits is the same as accelerating global warming. Two, because there are serious riks involved in terms of stranded assets.
The transition must be just. We have to involve ordinary people in the transformation and support the losers, i e regions and people that are stuck in the carbon economy.
To sum up. Technology alone will not solve the climate and ecological crises. We will need cultural and behaviour change as well as changes in the conventional economic model. But exponential technologies can and will help many sectors to decarbonise and fundamentally change both business models and consumption patterns.
However, while offering many opportunities, exponential or disruptive technologies bring about serious risks as well. Risks related to governance and democracy, to privacy, to jobs, employment and competition and to the overall functioning of the economy. We need a thorough discussion on where exponentail technology might take us – both with regard to the opportunities and the risks. Not least, the possible marriage between man and machine opens up for questions that are challenging, indeed.
"Exponential technologies – opportunities and risks", 9 nov 2020